Vastu Tips for Study Room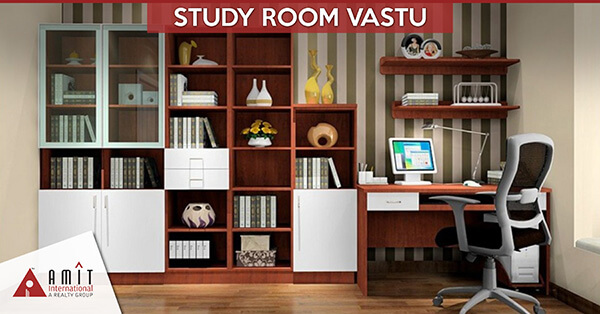 A place where one can peacefully sit to concentrate and focus on studies in the study room. This is the room in a house that encourages learning and knowledge. Therefore, it is vital that the study room is in compliant with the principles of vastu. Otherwise, the room will create unseen vibrations that will be unpleasant and hinder students from achieving success.
Follow the given vastu shastra tips to create a room that enhances stamina and concentration in children and boosts them to do well academically.
• The study room must be located in the East/Northeast or West side of the house.
• The book rack must be placed on the Western or Southern wall of the room and the book shelf must never be designed right above the study table.
• In case the room has a table lamp, it must be placed on the Southeast corner of the desk.
• If the room has windows, the one on the Eastern side must be bigger than the one on the Western.
• For the best results, rectangular or square study tables must be used.
• The room must always be well-lit and the person studying must never face a blank wall.
If you are wondering why your little munchkin is falling behind in school, it is probably because the room is not vastu compliant.
Come and stay at one of the luxurious apartments marketed by Amit International in South/Central/North Kolkata and create the ideal study room by following the above-mentioned vastu tips.