ECOS – A Symbol of Silence and Serenity Opposite Eco Park, Rajarhat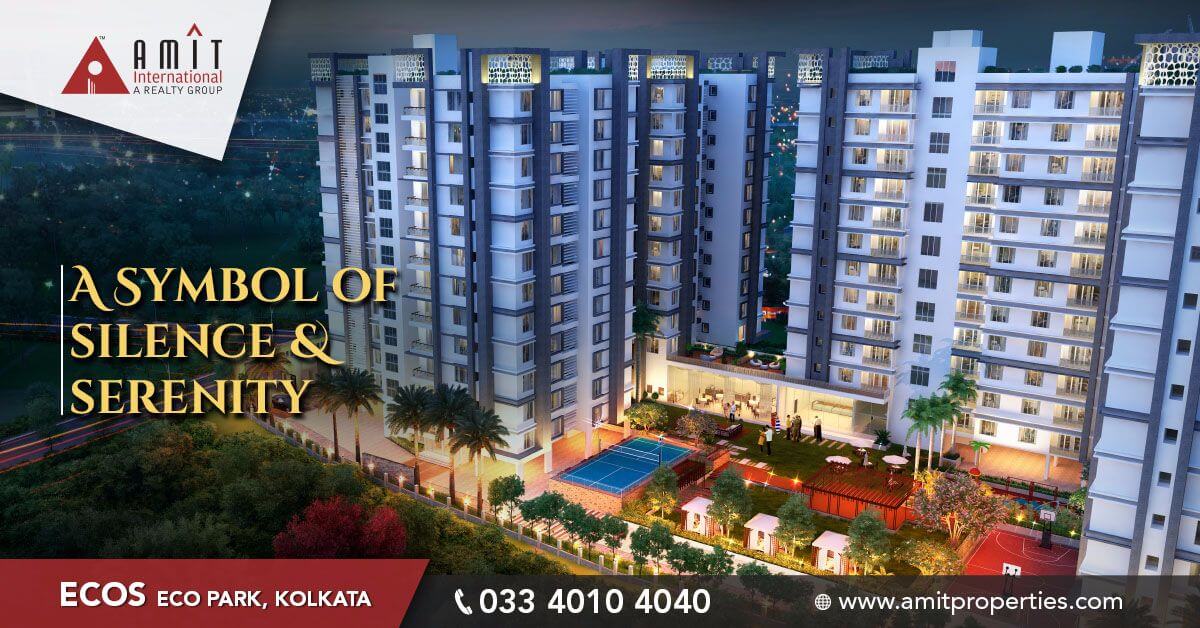 The Eco Park is situated at Rajarhat, New Town, the eastern extension of the city of Kolkata. The park that is dubbed in Bengali as 'Prakriti Tirtho' or nature's abode is an extension of an individual's yearning for the mother earth. The garden is studded with all the beauty of nature that cannot easily be accessed in the urban expanse. No wonder it is Kolkata's premier destination for those nature deprived citizens who find a few moments of happiness here.
Keeping in the mind the needs of the netizens, one of the top developers in Kolkata, the Amit Realty Group and Shree RSH Group have come up with their signature residential apartment here right opposite ECO Park, namely The ECOS. The apartment overlooks the park, enabling the incumbents to absorb the absolute peace of the manmade grasslands, wetlands, forests, lakes and enjoy the endless nature. Aptly named after the adjacent eponymous nature park, the housing estate combines the facilities of urban living with the savage romance of the wild aiming to give its residents the treat of a lifetime.
Let's have a quick look at the project's proximity to various landmarks and a few features :
4 towers consisting of 2/3/4 BHK flats, with sizes varying from 879 sq ft to 2091 sqft
Activity Lawn-for socio-cultural initiatives
Jogging lane-for brisk exercise
Mini Amphitheatre-for specially organized functions
Library– for bringing back the reading habit
Infinity swimming pool– for some exotic swimming
3 kms from Tata Medical Hospital
3.3 kms from DLF SEZ
4.9 kms from City Centre 2
3.1 kms from Techno India College
5 kms from Swissotel
4.3 kms from New Town Bus Terminus
5.5 kms from New Town Police Station
That's a short trip of the ECOs. So come and be lost in a life you could see only in your dreams.